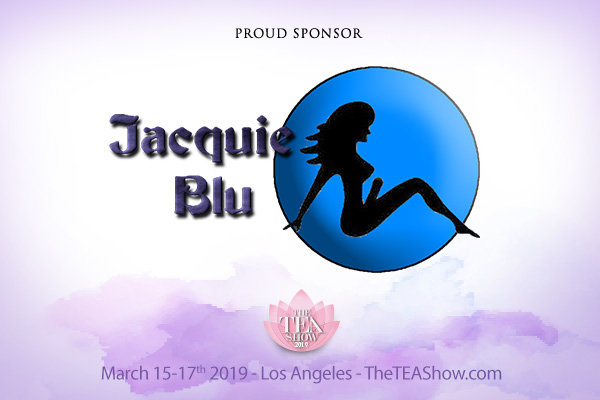 LOS ANGELES, CA – TEA nominee Jacquie Blu announced her returning sponsorship of the 2019 TEAs. Blu will be attending the event taking place March 15-17, 2019 at the Avalon in Hollywood, CA.

"Jacquie has been a staple at the TEAs for the past few years and it is a real privilege to have her return as a sponsor," said TEA Executive Producer Kristel Penn. "She invests in the community she's in and that's something to be admired."

Blu added, "I cannot describe the intense feeling I get when I realize that I am actually fulfilling a life-long passion and desire. To all my followers, fans and supporters thank you all so very much and I love you all. I wouldn't be here if it weren't for you."

Jacquie Blu moved to California from the east coast a few years ago to pursue her dream of model and adult filmmaking. After moving west, she started collaborating with photographer Al Tom (of Altomic Visuals) and thanks to his incredible work was able to launch her official website, JacquieBlu.xxx. The site has nearly a dozen very large photo galleries over 20 video scenes for fans to enjoy. Some are BDSM scenes with Mistress Cyan at the Sanctuary LAX, with more on the horizon.

In 2016, Jacquie Blu started working with Dr. Susan Block, who is a well-known sex educator, sex therapist, and author. They produce a weekly talk show, all related to sex, kink, and the Bonobo Way. Their guests consist mainly of porn stars, Doms, Dommes, artists, authors, and more.

In early 2017, Jacquie Blu started her own production company, Blu Dreamz, where she produces, directs, edits, and stars in numerous scenes with performers like Kristen Kraves, Natalie Chen, Lana Solaire, Chloe Wilcox, Riley Reyes, and many others. Blu has also produced a DVD including five of her scenes. In 2019, she will begin releasing her work on Blu-Ray and DVD. Visit her official website at JacquieBlu.xxx.

ABOUT THE TEAS
The 2018 TEAs are a three-day event held in Hollywood, CA, kicking off with an official pre-party at the Bardot on March 15, a daytime fan convention on March 16, and ramping up to the awards ceremony on March 17 at the Avalon.

More details about the event will be released in the months to come. Visit their official website at theTEAShow.com. The 2019 sponsorship packages are now posted to the website here: https://theteashow.com/sponsors

Sponsor and media inquiries can be directed to Kristel Penn at kristel@grooby.com.